Heavy Equipment Rental in Australia – Why to Rent From HireSeeking?
Why to Rent Equipment instead of Buying?
Construction job sites are getting larger day by day, and it may not be possible anymore to build towers, foundations, trenches, retaining walls, parking lots, fencing, and so on. All these work tasks are hard to manage on your own, which is why hiring heavy equipment rental companies is a smart move. You just have to notify your chosen company about the type of website you want to have constructed, the quantity of soil and rock you need to excavate, and the height of the building. Once they begin working on the project, you just have to wait for the finished product.
Complete Safety & Mechanical Check
First and foremost an ethical, reputed HireSeeking would always perform a complete safety and mechanical check on the used equipment before they rent it out for any purpose. The check isn't just meant to ascertain that the equipment is running correctly, but it is also important to ensure that all other machinery on site is working properly as well. You wouldn't want to be stuck using a piece of machinery that is faulty because a small error in judgment or poor maintenance could have deadly consequences.
Safety of the Machinery
Safety and machinery reliability are two of the most important factors when it comes to renting heavy equipment. By having a trustworthy and reliable heavy equipment rental company on your side you can rest assured that your job will be done with the top-of-the-line equipment, without worry. They would have thoroughly tested and inspected the machinery prior to renting it out to you and this is how they make sure your job is done right, every time. They work hard for you and with your best interests in mind. If you are considering hiring a company to help you get things done on-site, make sure you do your homework first by doing a little research.
Reliability of Our Equipment
Safety and Reliability Are the terms synonymous? That is the question you must ask yourself before you choose a heavy equipment rental company. A trusted and reliable one will have no problem at all fulfilling their duties to you and your business. This is why they are such a big hit among construction and mining companies. In fact, most of them operate in close proximity to where the worksites are located. This allows them to be very accessible to their clients, which helps ease stress.
Ensuring the Best Operators as Well
A good company hires only the best workers for the jobsite. They check their background thoroughly to determine whether or not they will be dependable. Most of them offer various ways to hire workers including job placement services, job training and so on. The heavy equipment rental company you pick should be able to give you an assurance that your chosen employees will be able to complete your construction project successfully and safely.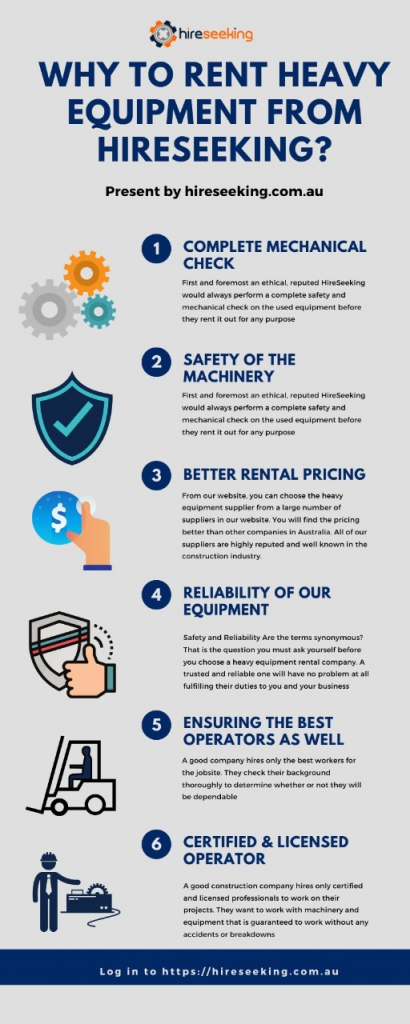 Certified & Licensed Operator
A good construction company hires only certified and licensed professionals to work on their projects. They want to work with machinery and equipment that is guaranteed to work without any accidents or breakdowns. It doesn't matter how expensive and high-tech the equipment is if it is not safe to use. You might want to call us today and find out whether they are insured, and if their equipment is in good shape.
Supportive Equipment
Skid Steers and Excavators: You can always trust a heavy equipment rental company. Because they also provide mobile construction equipment for any project, whether big or small. They can provide all kinds of excavation equipment such as skid steers, backhoes, bulldozers, and more. If you need a fully automatic machine to do your job then you should choose a rental company that offers this type of service.
Better Rental Pricing
From our website, you can choose the heavy equipment supplier from a large number of suppliers in our website. You will find the pricing better than other companies in Australia. All of our suppliers are highly reputed and well known in the construction industry.
Conclusion
As a client of a heavy equipment rental company, you will surely benefit from lower costs for your construction projects. Not only will you have less to pay for labor fees. But equipment rental company employees will also be responsible for safety measures as well. You can be at peace knowing that your company's machinery and other resources are in good hands. All you need to do now is to find a trusted company that can provide for your needs. All you have to do now is look for one near your area or start looking online.