Construction Equipment Hire in Sydney – Things to Consider
Construction Equipment
Construction equipment rental is a way to save construction costs for those who are just starting construction projects or renovating old ones. Most construction machinery companies provide rentals, including heavy machinery like generators and excavators, trailers that carry construction materials, tipper trucks, concrete mixers…etc. The most popular type of construction company providing such service is Rental Works Construction Machinery Rentals Australia; they have more than 20 years experience in this field and their team consists of licensed technicians with top skills on the latest technology so you can be assured about quality workmanship! You also need to make sure whether these machines meet your requirements before renting them as some may not fit into tight spaces while others may not be suitable for construction sites.
Hireseeking is a very good option to consider if you are looking for construction equipment to be used on the construction site. Hire Seeking offers users a large variety of construction equipment. They can also be rented according to the individual needs of the user so that they can perform their tasks perfectly and without any hassle. Hireseeking has all kinds of construction equipment including bulldozers, cranes, loaders, drilling equipment, saws, plows, rollers, generators, and more. Some of them are even hired as per individual requirements of different businesses. HS can provide this essential equipment to all types of businesses including residential buildings, commercial buildings, industrial buildings, road works, bridge works, and many other types of sites.
Construction Equipment Hire in Sydney
There are many companies that supply construction equipment hires in Sydney. Some of these companies offer this equipment at cheap rates. This enables the users to get their work done efficiently and within the shortest time possible. The price of the construction equipment depends on the make, model, and size. So, before hiring any construction equipment it is important to make sure that the equipment being hired is fit for the job.
Things to Consider Before Hiring?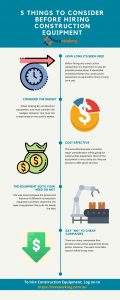 How Long it's Been Used
Before hiring any equipment, it is important to take all possible precautions. It should be checked whether the equipment is required for short or long-term use. The equipment should also be checked for its reliability and the service providers should check it thoroughly. The inspection process would help the user to finalize the deal. After making all the necessary checks, the user can go ahead with the hiring.
Consider the Budget
When looking for construction equipment, one must consider the budget. However, one must not compromise on the quality aspect. The equipment that is bought should be of the best quality. It should cater to the requirements of the user and it should cost at an affordable rate. It is always better to hire branded equipment rather than equipment belonging to a local market. Also, it is because buying the branded equipment ensures that the machinery works effectively and it is durable.
Cost-Effective
Cost-effectiveness is another major consideration while going for construction machinary. Most of the equipment is very costly but they are proven to offer good services. These days there are many companies that supply this construction equipment at competitive prices. The user should check out each and every detail before deciding which equipment to buy.
The Equipment Suits Your Need or Not
The user must compare the prices and features of different construction equipment and then determine the type of equipment that suits his needs the best. There are different types of equipment available and they include concrete pumps, digging trucks, cranes, excavators, pressure washers, graders, generators, rollers, etc. Construction equipment hire provides a wide range of equipment and each and every equipment has some special features which distinguish it from others. However, it is advisable that one consult an expert before purchasing any equipment.
Say "No" to Cheap Companies
There are many companies that provide construction equipment at low prices. However, the users must take caution while hiring them. Some of the companies that provide this service also have some hidden costs. It is important for the user to know about the service provider prior to making the final deal.
Hireseeking: Your Perfect Solution for Construction Equipment in Sydney
HireSeeking is a great platform for all the construction equipment seekers in Sydney. HS provides the easiest and cost-effective solution for equipment rental.
Benefits of Hiring construction Equipment from Hireseeking
Cost-Effective
Available the suppliers all over Australia
Better pricing policy
Easy terms and Conditions
The website is very user friendly
Easy to hire
Compare the equipment
Verified Seller
Unique profile for every renter
Get the latest and Modern equipment
Conclusion
Choosing suitable construction equipment that satisfies the requirement at the best price is not an easy job. However, one can reduce the cost of this equipment by using the internet to search out the best price deals. Various websites allow the users to compare the different equipment and also offer comparison tools to help them find the best cost-effective service provider. This will help the company to get the maximum number of clients in a short period of time.